Privacy Policy and Disclaimer
Procon Insurance Brokers CC is licensed as a financial services provider.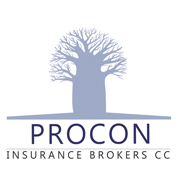 Email / Fax
The information in this email / fax is confidential and may have legal privileges. We intend it only for the use of the individual or entity we've addressed the communication to. If you have received this email / fax by mistake please delete it and tell the sender. We forbid any unauthorised use, change, disclosure or sending of the contents of this email / fax (including its attachments), whether in part or as a whole, unless consented to in writing by the sender, as it may be unlawful. We cannot guarantee this email / fax has no malicious coding. We reserve the right to check, intercept and block emails / faxes or take any other action according to our email / fax etiquette. Procon will not be liable for any delivery delay, loss, harm, disruption or data corruption that may arise from this email / fax.
As we aim to comply with the Protection of Personal Information Act (POPIA) Act 4 of 2013, we would like to advise you that the information contained in this correspondence from the sender is confidential. It is intended solely for use by the recipient. If you are not the recipient, please notify the sender immediately. You are hereby notified that any disclosure, copying, distribution of the contents of this correspondence is strictly prohibited and may be unlawful. More information is available on our website at section 5.2: www.proconinsurance.co.za - Other matters of Importance.
Website / Facebook
Procon Insurance Brokers CC is a licensed financial services provider. You may not print, copy or download anything for commercial use unless it is to promote the life and short-term insurance industry, to enhance consumer confidence, to create a positive image, awareness and understanding of the industry. The information contained in this website is for general information purposes only. No representation, warranty or undertaking is given and no responsibility or liability is accepted by any member of Procon Insurance Brokers as to the accuracy of any information contained herein. No part of this webpage/facebook is to be construed as a solicitation to buy or sell any financial product of any sort. The information contained herein does not constitute financial advice as contemplated in terms of the Financial Advisory and Intermediary Services Act 2002. We make no guarantees of any kind about the completeness, accuracy, reliability, suitability or availability with respect to the website/facebook or the information, products, services, or related graphics contained on this website/facebook. The use of or any reliance on this information by you or any third party shall be entirely at your or the third party's own risk and discretion and any liability arising from the use thereof or reliance thereon is accordingly disclaimed by Procon Insurance Brokers CC. A financial adviser must be consulted as far as the needs of any insured or investor are concerned and therefore any parties relying on any view, opinion or model contained herein does so at own risk and Procon Insurance Brokers CC disclaims all responsibility and liability for positions taken based on such reliance. Please note that past performances are not necessarily an accurate determination of future performances, and that the value of investments may go down as well as up. You may not create a link to this website/facebook from another website or document without our written consent. The inclusion of any links does not necessarily imply a recommendation or endorse the views expressed within them. We may collect information on our "Contact us" page. We require this information to understand your enquiry. We will not distribute your personal information to third parties unless it is for quotation purposes only.
POPI WEBSITE STATEMENT: By viewing this website, you hereby acknowledge that you have read and understand the Protection of Personal Information (POPI) disclaimer. Procon Insurance Brokers CC shall take all reasonable measures to protect the Personal Information of Data Subjects in our care. For the purpose of this disclaimer "Personal Information" shall be defined as detailed in the Promotion of Access to Information Act 2 of 2000 ("PAIA") and the Protection of Personal Information Act 4 of 2013 ("POPI"). The PAIA and POPI Acts are available online at www.gov.za/documents/acts. According to these definitions, personal information refers to information that relates specifically to information that can identify a living person, such as name, age, gender, identity number, email address etc.
Procon Insurance Brokers CC, collects, stores and uses your information primarily for the following purposes: To provide services to you as instructed and requested by you; To compile non-personal statistical information about browsing habits, click patterns and access to this website. Whenever you use our website, complete an application form, contact us electronically or use one of the services offered by us, we will collect your personal information. The information we maintain concerning our clients is treated as confidential and protected with the necessary safety measures. Should you have any queries relating to our compliance with the above-mentioned legislation kindly contact our Information Officer at procon@lantic.net More information is available on our website at section 5.1: www.proconinsurance.co.za - Other matters of Importance.
Facebook
Procon Insurance Brokers CC [Procon], its members, officers and employees shall not be responsible and disclaim all liability for any loss, damage (whether direct, indirect, special or consequential) and/or expense of any nature whatsoever, which may be suffered as a result of, or which may be attributable, directly or indirectly, to the use of, or reliance upon any information contained on the Procon Facebook.
The information on Procon Facebook is compiled in good faith and based on sources believed to be reliable, accurate and up to date, but no representations are made as to the accuracy, completeness or suitability of the information and no responsibility is accepted by Procon for any damages which may flow from any use of any information.
Personal | Business | Retirement | Investments
Please ensure that you are in agreement with the cover / retirement option / investment you have selected and that you fully understand your retirement plan / investment and / or what you are insured for.
The onus is on you as the client to ensure that you are correctly covered at all times.
Please keep us advised of any changes within your business or personal lifestyle. Should you require assistance or clarity on any aspect of your cover, retirement or investment's please don't hesitate to contact us.